It takes good communication to bring great ideas to life!
No matter how developed the company or organization is, there is no perfect communication; there is always space left for improvement and development!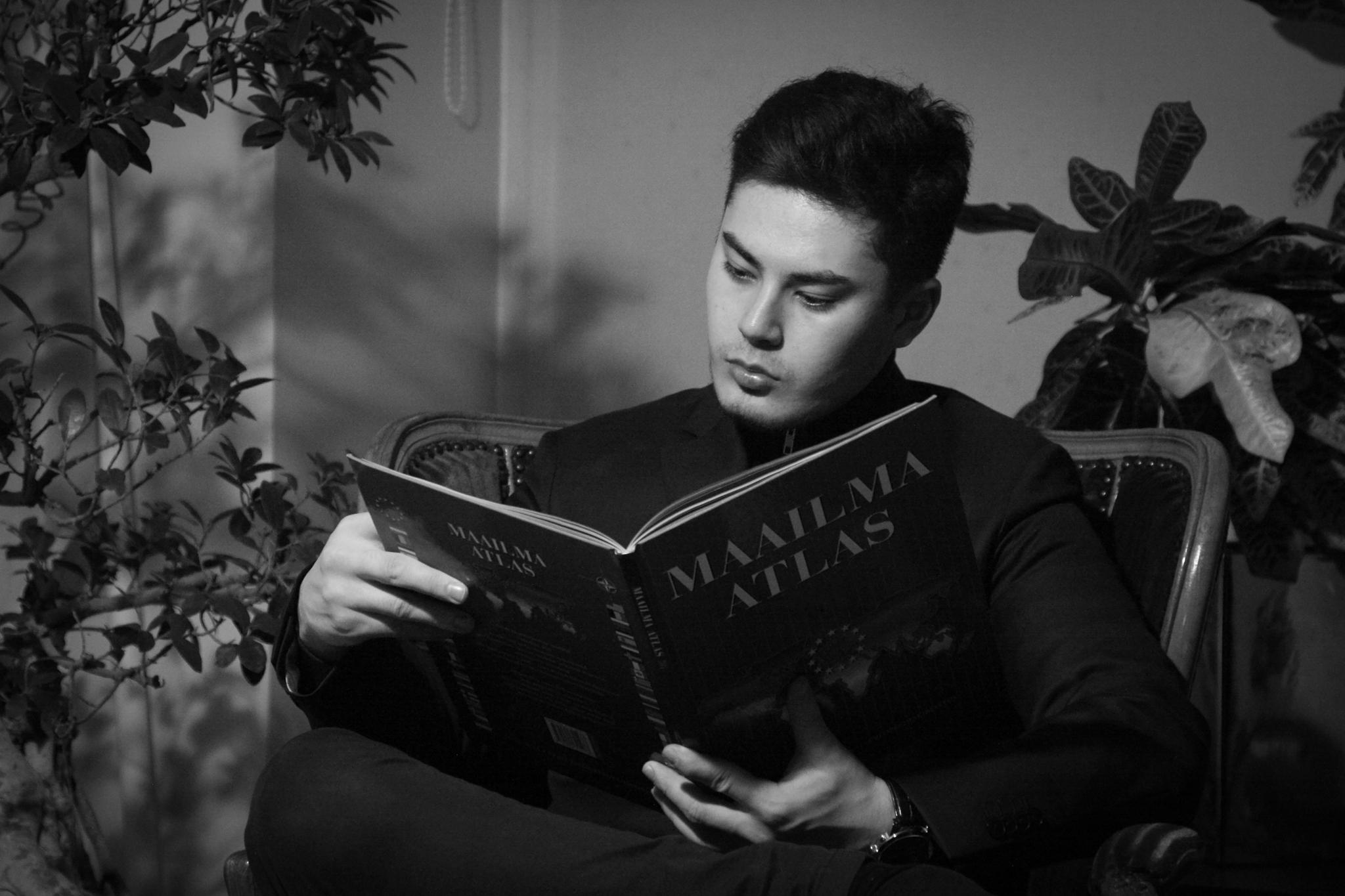 My name is Mikael Eichi Kawase, I am a Finnish-Japanese man, and I am coming from Finland, but I was born in Strasbourg, so I could say I'm from many places, but in short, I come from Finland, where I grew up. You will discover my relationship with BFM and Tallinn University in this article and get the necessary encouragement to take the step to become a Master's student in Communication Management! If you get to the end of this article, you will find my message directed to you. However, let us not jump there just yet; I will first tell you about my journey at BFM, Tallinn University.
My journey at Baltic Film, Media and Arts School (BFM) began in 2018 when I started my Bachelor studies within Crossmedia, which is storytelling via different media platforms. Before that, I worked on a container ship after my military service and wanted to study politics because of my will to help people, to have an impact. I was interested in conflict and economic-related politics, but while studying for the entrance examinations, the other subjects did not feel like something I would like to pursue. Then I discovered that Tallinn University has an introduction session in Helsinki, Finland. I participated and took a closer look and found out they had this programme called Crossmedia "storytelling via different media platforms." It was different from my original plans of studying politics in Finland, but I thought that storytelling, and especially media are great tools to make an impact in this world, even on a societal level. I shared my thoughts with my close friend, who laughed and stated, "You truly are a storyteller; you always have new ideas, and maybe that's the place you should pursue for." Therefore, I did. After all, Tallinn was only 2-2.5 hours away from Helsinki, Finland. It has a bit different atmosphere and different environment, yet it is closer to Helsinki than some other university cities in Finland. In addition, I wanted to open up a new chapter in a new environment and meet new people. Moreover, what is a better start for the journey than a new country I am not very familiar with and an international programme with people from all corners of the world?
From Crossmedia to Communication Management
After my Crossmedia bachelor's degree, I decided to continue studying at Tallinn University because I found the institution's teaching method highly effective and pleasurable. Today as I am writing this article on the 19th of December 2022, I am a second-year student in Communication Management Master's programme. It has been an enriching experience as it combines theory and practical aspects of communication studies from various communication fields. Just to mention a few elements, we have had studies about globalization, PR, intercultural and organizational business, and marketing communication, among many others. Not forgetting the practical internship programme that enabled us to implement the theories and methods learned within Tallinn University in a company or organizational environment that hosted our internships.
In my case, the company was a global Japanese-owned energy technology company with which I am currently working. The internship was a great indicator of how much I have learned during the programme because I could spot various communication-related issues and sectors to improve within the company, from company culture to intercultural communication within a global business environment, to marketing and business communications in general. In a business environment, communication is not only about what we say; also, it is about when we say it and how to understand the audience we are trying to reach. The Master's Programme in Communication Management opens up the potential for one to understand what communication is all about. In addition, what makes it even more interesting is that no matter how developed the company or organization is, there is no perfect communication; there is always space left for improvement and development. Meaning there is always work in terms of development. Understanding the different aspects of communication, cultures, and stakeholders enables us as communicators to convey a message in a form that the counterparty can perceive most efficiently. Without good communication, we as human beings would not have been able to develop all the infrastructures we have created. This includes building cities, new technology, and innovation that drives our growth and development as a collective species.
Communication is everywhere, in our relationships with family and friends, in businesses communicating with clients and co-workers, in deal and peace negotiations, and even in the process of an airplane taking off and landing from point A to point B. Each infrastructure has its history and timeline in terms of communication and development. The more people understand its importance, the more we can get done, from vision to the idea execution. Great ideas need good communication to come to life; otherwise, there is a risk that the idea will never develop into a form of existence.
My first impression of BFM and my first year as a Communication Management student
I got my first impression of BFM while beginning my studies in Crossmedia in 2018. I did not have any expectations except to learn something new, and so I did. I was happy to see that the facilities of Tallinn University were modern, although the institution has its historical building called Terra, which represents the university's long academic traditions. Often, many internal film award events took place in that building. All the other university buildings are modern, including the BFM, which is also the home of the Crossmedia and Communication Management programmes. During my Crossmedia studies, we had the modern facilities to make live TV shows, recording rooms, editing rooms, meeting rooms, and classrooms that enabled us to make the best out of our studies. Not forgetting the media library and 4K cinema theatre where I have sat during many lectures. To conclude my first impression, I had no expectations, but I was positively surprised by the facilities and the institution.
As for my first year as a Master's student in Communication Management, the world of communications opened up to me on a completely new level. I already got familiar with storytelling in its various forms and channels during my Crossmedia studies, but now when looking backward, these two programmes seem like a fine combination, like a great pair of tango or salsa dancers flowing through the rhythms. As I mentioned in the previous section, we have learned about communication in different communication sectors. Nevertheless, if I have to sum up the learnings of my communication studies, I have learned its importance. It exists in every human interaction, yet it is often not taken seriously enough. Every human relationship requires understanding of not only the counterparty but also of our perception and ourselves. To become a great communicator, we also need to understand how we react to different situations and learn to understand instead of placing our judgment on others. Instead of reacting in difficult situations, we shall try to understand that no matter whether we talk about personal relationships or business context, we are all humans. Therefore, one of the key learnings I have taken with me is to focus more on the communication aspect of people. To learn to understand what they mean and to consider their values and backgrounds that may affect their perception or communicative behaviour within the given context and situation. For example, business negotiations between Americans and Japanese hold two different value systems and cultures. Moreover, not understanding the counterparty can lead to a deal or agreement being left unsigned only because of a lack of understanding and appropriate communication within the given situation.
What comes to my most memorable experience of the first year was meeting all of my new classmates. We had people coming from various cultural backgrounds and with different experiences. Yet, we all became very united while studying together, forming lifelong friendships with people from different corners of the world, and making future travel plans to countries I would not perhaps visit without meeting all the people I met. The beauty lies in creating human relationships with people who are so different yet share a lot of similarities and a common goal and interest, which in our case is Communication Management. That is the anchor point that brought us together, and I firmly believe that this two-year study period has offered us the opportunity to learn also from each other in the future after forming these strong ties.
A piece of advice to a student who would like to study communication management
Do not be afraid to apply for the programme. It does not lock you into one profession or work/business sector. If you are interested in communication management but unsure of what you want to do in the future, I can guarantee you that, the tools you will acquire during the two years will give you an excellent kick-start to pursue your dreams. The programme works as a vessel for you to cross the river, but after that river, there will be many more rivers to cross and mountains to conquer, but then you have the necessary tools to do so. You learn to understand other people and communication aspects, but moreover, you learn about yourself.
The Master's Programme in Communication Management works for people who want to pursue a career in different business organizations and non-profit organizations. You can work in PR, internal or external communications, marketing, social media management, as a lecturer, or beginning to pursue your own business or idea. No matter if your thoughts about the future are related to communication, communication is always needed, so it will not harm you to learn about it. As I mentioned, no matter how great the idea is, it might never come to life if it is not communicated well enough to your audience. In addition, communication-related issues are always present in small-scale businesses, large global businesses, or other organizations. Therefore, starting a PR, team coaching, or other communication-related consultant agency can potentially have plenty of customers, especially in today's society, where because of globalization, understanding the different cultures and ways of communicating has become more crucial in all sectors.
To add, Tallinn is a great place to start your journey. Tallinn University has many international students. Therefore, whether you are coming close or far, you are always having people around you who have walked through a similar journey, facing cultural differences and jumping into something unknown. You will indeed find your way and feel at home with an open mind and attitude. And suppose you got so far reading into my long article, I am sure you have the motivation, and you have all the necessary tools to get here and to study communication management or other programmes at Tallinn University. Find a way; there is more than one path to the top of the mountain. Do not be afraid; embrace the storm and uncertainty because that will give you the necessary growth to tackle future obstacles. Therefore, my message to you is; do not be afraid; jump because change and growth happen outside your comfort zone. Discovering something new requires dealing with something unknown first. It will be a memorable journey, a pleasant one with many new adventures! Cheers, and all the best for whatever path you decide to take!